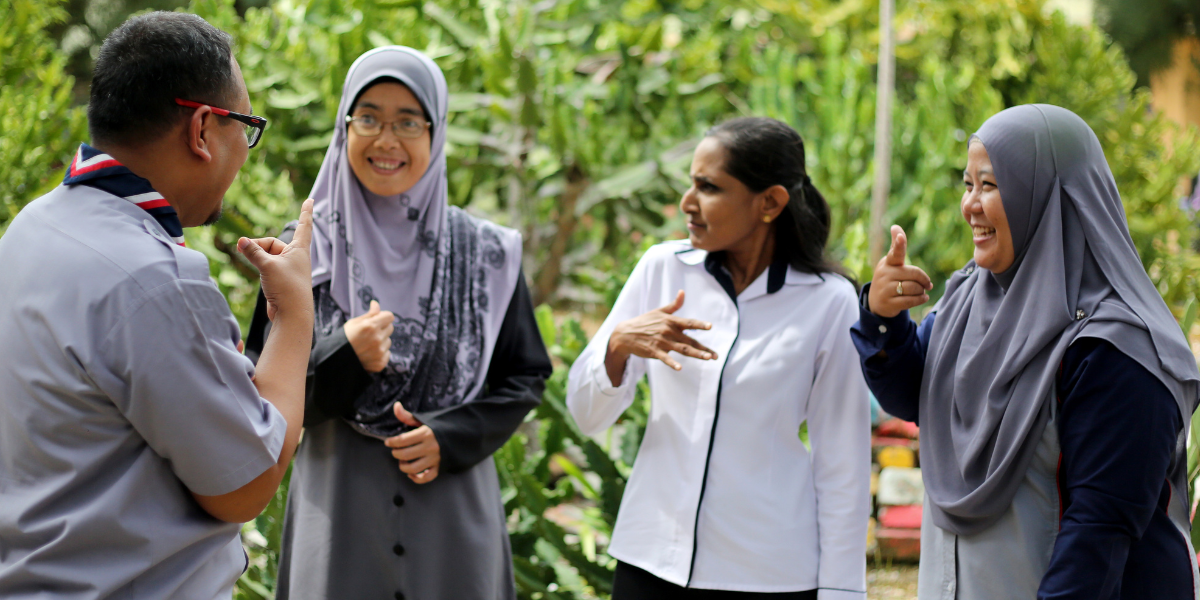 ASL is a critical language, allowing those with notable hearing difficulties to communicate effectively with others. American Sign Language also has an intriguing history. Here's an overview of what ASL is and a brief history of ASL.
Approximately 15 percent of adults in the United States have some degree of hearing difficulty. Many of those who are deaf or hard of hearing rely on American Sign Language (ASL) to communicate with others.
What Is ASL?
American Sign Language is a visual gesture-based language that's primarily used by members of the deaf community in both the United States and Canada. It has all of the features of a spoken language with its own nuances, features, and overall structure.
ASL does have gestures that represent the individual letters associated with the Latin alphabet (also known as the Roman alphabet). However, it also includes gestures that represent specific full words, phrases, and concepts, allowing users to have conversations quicker than if each letter had to be signed. ASL is not a form of pantomime.
The History of ASL
The Formation of ASL – In the United States, formal education for the deaf became available in 1817. During that year, the educational institution that is now known as the American School for the Deaf – which is located in Hartford, Connecticut – was formed.
Initially, visual gestured-based communication at the school was functionally Signed English. The goal was to provide students with a language that featured the same structure as English. Much of the approach was based on the development of Signed French, as schools in the United States were highly influenced by the structure of the French educational system.
However, members of deaf communities communicating with one another didn't stick solely to Signed English. Instead, many developed their own approaches to signing. One classic example is the history of the deaf community in Martha's Vineyard, which began in the late 1600s. In that region, a unique form of sign language developed – which was referred to as Martha's Vineyard Sign Language – that wasn't wholly based on the structure of English.
Along with community-based sign language, households with individuals who were deaf or hard of hearing often created unique signs to communicate with one another. Again, these weren't inherent based on the structure of English.
Students from a range of communities and households ultimately attended classes at the American School for the Deaf, as well as other institutions that began supporting their education. As a result, by 1835, the educational approach changed, ultimately leading to the formal adoption of what is now known as American Sign Language (ASL) in educational settings.
Essentially, the language evolved to include both an alphabet and gestures that are functionally independent of English from a structural perspective. It brought together signs from a range of sources, mixing them together to smooth communication. The result was more natural for the deaf community, resulting in a language that is uniquely theirs.
Shifts in Education for Members of the Deaf Community
Over time, educational methods for members of the deaf community continued to change. While ASL was widely used for a period of about 100 years, there was ultimately a change in sentiment that fundamentally altered the educational framework.
There was a lengthy period where oral instruction was the norm, and developing lip-reading capabilities was encouraged. That change was predominately spurred by fears that ASL discouraged the development of speaking-related skills. Oralism was believed to be a solution that would allow members of the deaf community to communicate with the broader community with greater ease. In some cases, the use of ASL was banned at some educational institutions as a means of promoting the oral-based approach.
Oralism remained the primary educational approach until the 1960s. At that time, many determined that the strategy didn't produce the desired academic results, causing members of the deaf community to fall behind when it came to language skills. Additionally, the deaf community began advocating for themselves, leading a re-adoption of ASL instruction in educational settings.
However, there are two primary educational philosophies present today. One views deafness as a deficit, focusing mainly on helping students compensate for what's viewed as a shortcoming. The second considers deafness to be a different way of life but not a disability and views ASL as a cultural feature of the community, focusing heavily on empowerment.
The Continuing Evolution of ASL
Today, ASL continues to evolve, like essentially all languages do. It introduces new signs to represent shifts in how people communicate, refer to places or objects, and aspects of language like slang.
Just as dictionaries add new words on an annual basis, ASL is continuously developing new signs. For example, ASL integrated new signs for "selfie" and "bae" when those terms rose to prominence.
Some signs also adapt to societal and technological changes. For instance, the sign for "phone" has shifted over the years, reflecting how the tech has evolved. Similarly, while the traditional signs for "mother" and "father" were typically used when discussing parents, there's now a non-gendered variant that recognizes non-binary parents or allows the sign to remain gender-neutral.
Ultimately, ASL will keep changing just as any other language would, allowing it to accurately reflect the unique culture of the deaf community and adapt to the ever-changing world.
Are You Looking for an ASL Interpreter?
When you need to communicate with a member of the deaf community or individuals who are hard of hearing and rely on ASL, accurate sign language interpretation is essential. At Acutrans, our team of ASL interpreters has the needed degree of expertise and professionalism to meet your interpretation needs, allowing conversations to proceed smoothly and ensuring accuracy.
If you require a professional sign language interpreter, Acutrans can help. Acutrans provides interpretation services along with certified, notarized translations. If you need a sign language interpreter, the Acutrans team can offer a fast, reliable solution. Contact us for a free quote today.