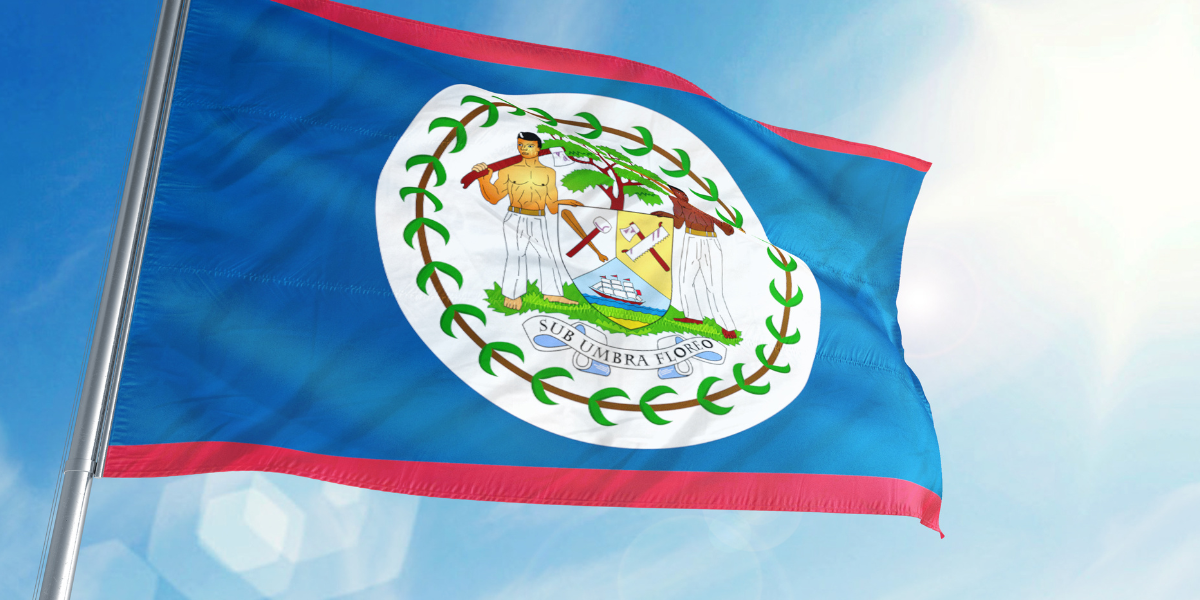 On September 21, 1981, Belize gained its independence from the United Kingdom, formally becoming its own nation. Prior to that time, Belize used a flag that displayed a coat of arms on a white circle positioned on a field of blue. After gaining its independence, a competition was launched to help the new country choose a new flag. Ultimately, the Belize flag became quite interesting and told the nation's compelling story. Here's a quick introduction to Belize and a closer look at why the Belize flag is so unique.
About Belize
While Belize became its own nation in 1981, its history dates back much further. The Mayan civilization spread into the region that's now known as Belize between 1500 BC and 12000 BC, and it's said to have thrived until around 1000 AD. Indigenous people remained in the region beyond that point and were present when Europeans began arriving in the area.
Initially, Spanish conquistadors and missionaries reached the region during the 16th century, and British settlers followed not long after. In 1862, the area became known as the Colony of British Honduras, marking its association with the United Kingdom. In 1871, it formally became a British crown colony, and various laws emerged to connect it to the British government.
It wasn't until 1964 that British Honduras was granted the ability to self-govern, marking its shift toward independence. In 1973, the area changed its name to Belize, creating another degree of separation. Ultimately, full independence was granted in 1981, and many countries formally recognized Belize as its own nation at that time.
Throughout its time as a colony, Belize became home to its fair share of immigrants. Along with European settlers, Africans arrived as slaves during the colonial period. Some were transitioned in from other Central American British colonies, while others of African descent were brought from Bermuda and Jamaica.
During the period of settlement and near the end of slavery, Garifuna – descendants of Lesser Antilles and Africans – also shifted into Belize. Many were fleeing lives of slavery and formed a settlement in what's now southern Belize. More arrived during the Honduran civil war in 1832.
Mayans also remained in the area. Some fled forced labor in Guatemala, also heading toward southern British Honduras. Mayans were also present in the north, though geography largely prevented the southern settlements from assimilating into the broader population as fully as their northern counterparts.
While Belize was marked by periods of conflict and economic and social unrest, many of the changes propelled the region toward a brighter future. The Belize Act of 1981 essentially severed the nation's connection with the UK in a governmental sense, and while the country experienced further growing pains during its early years, it ultimately reached stability.
The Belize Flag
The Belize flag is a unique design featuring a central image that's striking and reflects a significant part of the nation's history. First, there are a pair of men, one holding an axe and the other a paddle. The axe is a nod to the timber industry, while the paddle represents the coast. One of the men is of African ancestry, while the other is a Mestizo – a person of mixed indigenous and Spanish descent. It's the most prominent use of people on a nation's flag, causing it to stand out.
Between the men is a mahogany tree, a native hardwood that was one of the most widely logged during the settlement era. There's also a shield with three sections featuring the images of a ship, an axe with a saw, and a mallet and paddle, all of which largely nod to different facets of the economy. Below the shield is a banner that states, "Sub Umbra Floreo," which roughly means "Under the shade, I flourish," a reference to the forests in the region and the protection once offered by Britain.
Around the coat of arms is a wreath with 25 leaves. The prominent colors – red, white, and blue – recognize the two primarily political parties in the country. Initially, there weren't set dimensions for the flag, though those were ultimately standardized in 2019.
Are You in Need of an Interpreter or Translator?
When you need to communicate with a diverse population, partnering with a top-quality language services provider is essential. Acutrans offers industry-leading certified document translations in 24 hours. Along with general translation, Acutrans has industry-specific translation services for the legal, medical, and technical sectors. Plus, Acutrans can provide post-editing machine translation services to ensure the accuracy of machine translations and localization services to help companies connect with a specific audience.
For experienced interpreters, Acutrans also has you covered. Our team offers video remote, over-the-phone, and on-site interpretation services in over 200 languages, ensuring companies have access to comprehensive solutions that handle practically any language interpretation need. Contact us for a free quote today.