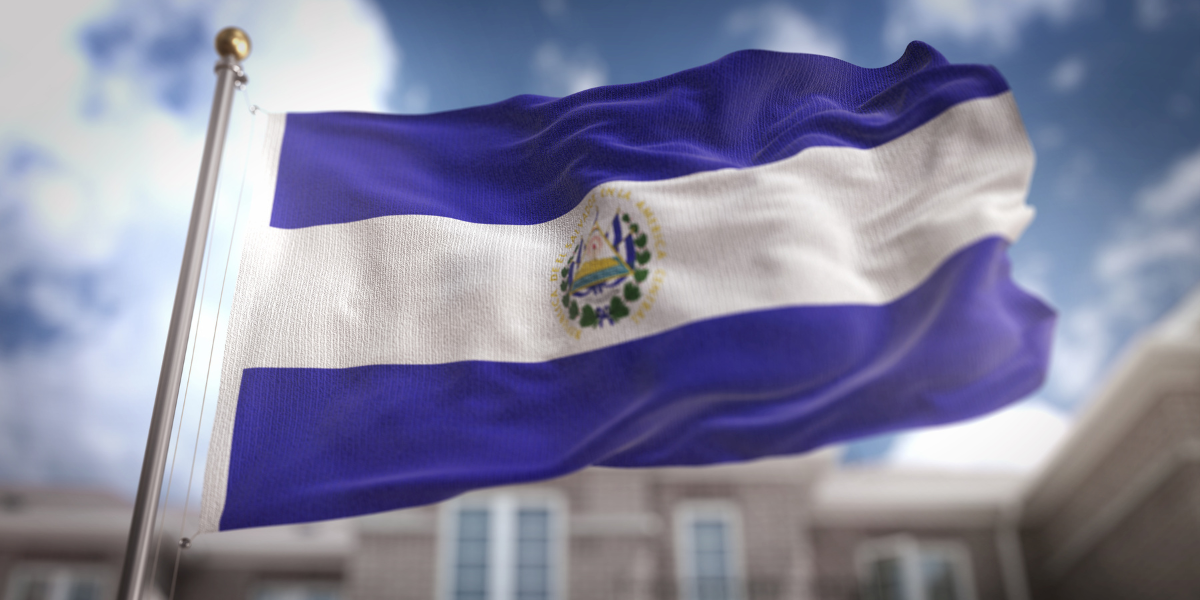 The flag of El Salvador is incredibly meaningful and holds a lot of symbolism. When countries design their flags, the decisions aren't made purely for aesthetic reasons. Instead, the various choices usually have deeper meanings. Some may reflect a nation's history, while others may signal hope for the future. Specific choices could highlight a country's attitude, desires, and beliefs, too.
By taking a closer look at the flag of El Salvador, it's easier to understand what it means to the nation and its people. Here's a quick introduction to El Salvador and a deep dive into the country's flag.
About El Salvador
El Salvador – a name that means "The Savior" in Spanish – is the smallest Central American country, but it's also home to an estimated 6.3 million residents. As a result, it's the most densely populated nation in the region.
Some of the earliest people to live in El Salvador were indigenous groups, including the Aztecs, Mayans, and Pipi. In time, explorers, and settlers from various European nations began arriving, increasing the population and altering the mix of ethnicities present.
The official language of El Salvador is Spanish, though many other languages are spoken in the country. That includes some indigenous languages, though the number of people speaking those are in decline. When it comes to the Salvadorans, the majority are of mixed ethnicity. Some are "mestizo," which is a term referring to individuals of mixed indigenous and European descent.
The country of El Salvador also has 23 active volcanoes within its borders. As a result, it's occasionally referred to as the "Land of Volcanoes."
The Flag of El Salvador
The current flag of El Salvador was initially adopted in 1912. It features three horizontal stripes, two of which are a deep but vibrant cobalt blue and one of which is white. The upper blue stripe represents the sky, while the lower blue stripe stands for the ocean. The central white stripe represents peace.
Within the center of the white stripe, there is a highly detailed coat of arms that represents El Salvador. There's a yellow triangle with five volcanoes that rise from the ocean. Above the volcanoes is a Phrygian cap, and there's a rainbow positioned just above it.
The crest also features five blue flags that represent the nations of the Federal Republic of Central America. Below the flags is a scroll that reads, "Dios, Unión, Libertad." That translates to "God, Union, Liberty."
The flags and triangle are surrounded by a laurel garland. Then, the coat of arms is circled by the phrase, "República de El Salvador en la America Central."
Prior to 1912, El Salvador used several different flags over the years. Between 1896 and 1912, El Salvador used a flag that represented its position when it joined the Greater Republic of Central America, using dark blue and white strips and a coat of arms.
Before that, the flag of El Salvador featured alternating blue and white stripes along with a red canton that contained white stars. Initially, there were nine stars, though that number was increased to 12 in 1875.
Between 1823 and 1839, El Salvador was part of the Federal Republic of Central America, which represented five nations. The flag contained two blue stripes and one white one, along with a coat of arms representing the countries.
From 1821 to 1823, El Salvador had a Mexican Empire flag. However, its first flag – which was used between 1535 and 1821 – represented New Spain.
Are You Looking for Skilled Translators and Interpreters?
To communicate effectively with a diverse population, it is crucial to have access to reliable language translators and interpreters. At Acutrans, we recognize the significance of language services and strive to maintain the highest standards at all times. Our goal is to provide companies and individuals with continuous access to exceptional translators and interpreters.
Acutrans is a top-rated language services provider that offers precise and certified document translations within 24 hours. Our team includes specialized translators for the legal, medical, and technical industries, in addition to providing general interpretation.
We also offer professional interpretation services in over 200 languages. At Acutrans, we offer a variety of programs, including on-site, over-the-phone, and video remote interpretation options to improve accessibility and convenience.
With our experienced and talented translators and interpreters, Acutrans caters to the needs of a diverse range of clients and customers. Our aim is to simplify access to critical language services, leading to better communication and overall experience for all parties involved. If you're looking to partner with a reliable and professional language service provider, contact us today for a free quote.