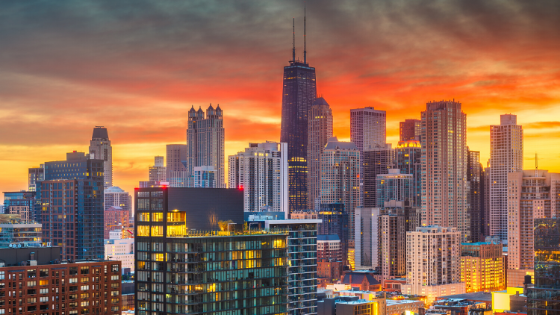 How to Find Medical Interpreters in Chicago
The Diversity of the Chicago Community
Chicago is the third-largest city in the United States and one of the most vibrant and diverse cities in America. People belonging to multiple backgrounds and ethnicities call this city their home. Apart from the Caucasian majority, Hispanics and Latinos, Asians, Indians, and African Americans make up the bulk of the city's population. [1]
With so many different ethnicities living in the area, it comes as no surprise that many members of the Chicago community do not speak English. In fact, as many as 36% of the people living in Chicago speak languages other than English at home! Instead, these people speak languages ranging from Spanish and Arabic to Polish, Chinese, and Tagalog. [2]
Medical Interpreter Demand in Chicago
Due to such a diverse population, there is a natural demand for professional medical interpreters in Chicago. There are a lot of medical interpreters available in the region, drawn to settle here because of the many business opportunities open to them. However, if you require a trained and certified medical interpreter with incredible subject-matter knowledge, you have to employ the services of a reputable interpretation agency, not just any person who calls themselves an interpreter or translator. Acutrans has been a fixture in the Chicago community for over 20 years, providing professional and certified medical interpretation services for many Chicago-area hospitals. 
Do You Need a Certified Medical Interpreter?
In most instances of casual meetings between two parties who don't speak the same language, employing any competent interpreter yields good results. For example, you do not need a certified translator when you want to casually hang out or show the city to a friend or business partner who has come to visit from abroad. Any capable interpreter removes language barriers that exist between you and the other party to enable seamless communication in such a scenario.
However, in more formal settings within businesses and organizations, you need to hire the services of a trained and certified legal or medical interpreter. The training and years of experience of these interpreters impart them with the crucial subject matter knowledge required to interpret in these industries. Such interpreters possess the knowledge of industry-specific terms, codes of conduct, and the proper procedures to follow that allow them to interpret effectively within these industries.
For example, if a hospital requires an interpreter to allow for easy communication between doctors and their patients, they employ a medical interpreter for their services. The medical interpreter honors doctor-patient confidentiality and also knows the exact medical terms that the doctor might use to enable clear communication without the risk of misunderstandings arising. 
Additionally, with years of experience in the industry, a certified interpreter is much more psychologically resilient than the average person. This allows them to keep their cool and interpret effectively in the extremely tense or draining situations that are all too common in the medical industry. It does not matter if the interpreter is dealing with the victims of a car crash or the stressful environment of cancer treatment. The interpreter remains calm and collected and offers their services unfazed by the tension around them.
This is of vital importance in the healthcare industry, as the health of the patient is at stake. One small misunderstanding can spell the difference between life and death for the patient. Thus, the interpreter must interpret accurately at all times and situations to prevent putting the health of the patient in danger.
Where You Can Find a Certified Medical Interpreter in Chicago
If you want to hire a certified medical interpreter in Chicago, you are in luck. Acutrans is an interpretation services agency that provides medical interpreters for hospitals and medical facilities in the Chicago area. 
Our headquarters, in Hickory Hills, is a mere half an hour's drive away from downtown Chicago. For over two decades we have provided our clients with certified, professional, and accurate translation and interpretation services in Chicago. While our healthcare clients hail from around the country, the Chicago-area hospitals and healthcare providers we service include Howard Brown Health, La Rabida Children's Hospital, Northwestern Medicine, Advocate Aurora Health, and many more. For certified interpretation services, look no further than Acutrans.
Why You Should Choose Acutrans
We are Committed to Certification, Professionalism, and Accuracy
Our time in the industry has allowed us to build a team of over two thousand trained and experienced linguists. With our extensive team of interpreters, we are able to offer interpretation services to our clients in over 200 different languages – including Arabic, Spanish, Polish, Chinese, and Tagalog (the most commonly spoken languages in Chicago after English).
At Acutrans, we provide excellent on-site certified medical interpreters with years of experience in Chicago as well as nationally. Our medical interpreters go through extensive training, and all of our certified interpreters are well-versed in both medical terminology and key health care information. Our medical interpreters follow HIPAA guidelines, ensuring that any information exchanged between interpreter and patient is completely confidential. Accuracy, professionalism, and excellent customer service are the top priorities for our medical interpreters.
We Provide Professional Medical Remote Interpretation Services
Not only do we provide on-site interpreters, we also provide video remote interpretation services that can be accessed from anywhere. In hospitals and medical facilities, we understand that interpretation needs often pop up without any prior warning. Acutrans' exclusive, HIPAA-compliant software application, On-Demand Interpreter (ODI), is the most cost-effective way for your medical facility to obtain accurate and professional foreign language interpretation. ODI can be implemented on your existing hardware or accessed through an iPhone, tablet, or other smart devices.
We also provide over-the-phone interpretation services for medical appointments. Acutrans' Over-the-Phone Interpreting (OPI) service provides professional medical interpretation services in over 200 languages. Our system can be integrated with your existing phones, or you can access an interpreter using our On-Demand Interpreter application via iPhone, tablet, or another smart device.
We Tailor Our Services to Your Needs
Whether you need on-site medical interpreters, or remote medical interpreters, we provide medical facilities and hospitals customized solutions that achieve maximum results. Acutrans is dedicated to serving our clients and prioritizing their needs. No matter how unique your requirements or situations are, client satisfaction comes first with us. Learn more about our medical interpretation services, or call now to request a custom interpretation services quote for a hospital or medical facility.
Contact us
today to get a free quote for a certified medical interpreter in Chicago.