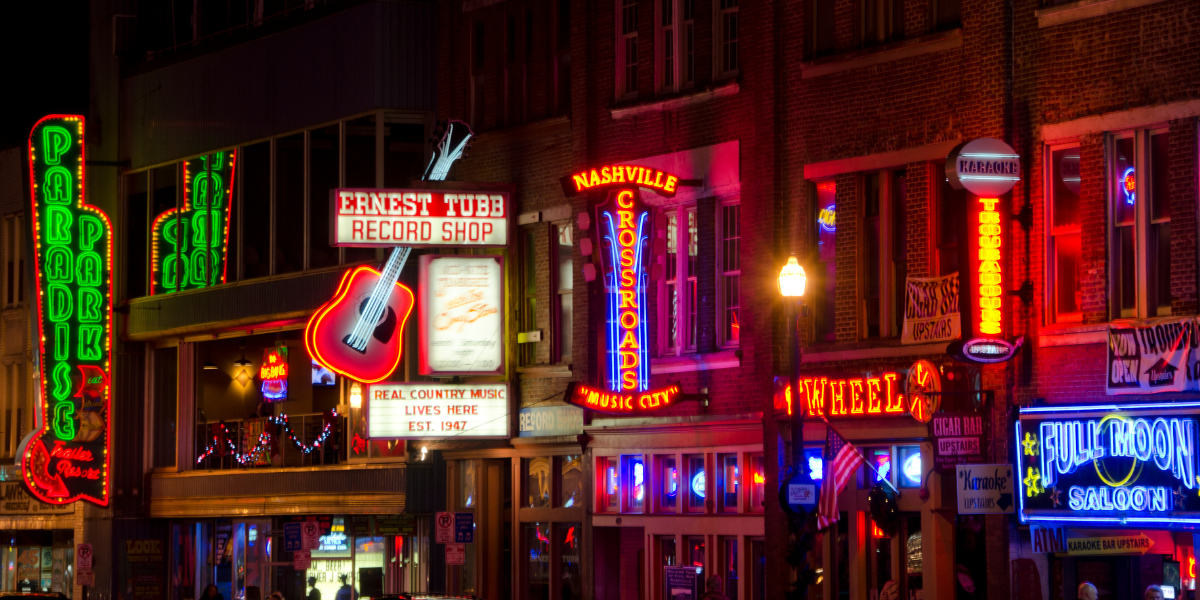 Overall, English is by far the most common language spoken in Tennessee. In fact, the official language of Tennessee has long been English. However, a wide variety of other languages are also spoken by residents of the state. Primarily, those languages are brought in by immigrants, resulting in a diverse population.
Immigration patterns impact the languages present in a state significantly. With that in mind, here's a look at Tennessee's immigration history and the top ten languages of Tennessee other than English.
Tennessee Immigration History
During the 18th century, Europeans began settling in the area that is now Tennessee. Prior to that, the region was populated by indigenous people, including the Cherokee and Chickasaw. However, indigenous people were ultimately pushed west into reservations in the area that's now Oklahoma.
Many of the earliest immigrants were of English and Scotch-Irish descent, though there was also a sizeable German population. During the 19th century, the African population grew quickly, primarily due to Europeans bringing slaves into the region for agricultural labor.
After the end of slavery, the population shifted. Many African Americans chose to leave Tennessee, while more Americans of European descent moved into the region. By the early 21st century, approximately 80 percent of the population of Tennessee was white.
Since the 20th century, the Hispanic population in Tennessee has grown significantly. Additionally, immigrants from Asia are far more common. However, the largest minority is residents of African descent, making up approximately one-sixth of the population.
Top 10 Languages of Tennessee (Other Than English)
In Tennessee, approximately 7.4 percent of residents above the age of four speak a language other than English at home. With Tennessee's total population estimated at 7.05 million, that means around 521,799 residents speak non-English languages at home.
While members of those households may also speak English quite well, not every one of them does. Approximately 2.82 percent of the Tennessee population is considered to have limited English proficiency (LEP), which calculates out to about 198,848 residents.
As a result, there are many other languages that are regularly spoken in Tennessee. Here's a look at the top ten languages of Tennessee besides English.
Spanish is the most common non-English language spoken in English, and by a significant margin. In total, there are around 264,534 Spanish speakers in Tennessee, giving the speakers a population share of a little less than 4.16 percent.
The second-most common language other than English spoken in Tennessee is Arabic, though it comes in far behind Spanish when it comes to numbers. An estimated 0.42 percent of the population – or approximately 26,921 residents – speak Arabic.
With a population share of a little more than 0.24 percent, Chinese (including Cantonese and Mandarin) is third on this list. There are around 15,351 Chinese speakers in the state of Tennessee.
German is spoken by an estimated 10,776 Tennessee residents. That works out to just shy of 0.17 percent of the population.
Sitting barely behind German is French (including Cajun), with a population share that's also just a little less than 0.17 percent. In total, there are around 10,625 French speakers in the state.
In sixth on the list of the most common non-English languages in Tennessee is Vietnamese. With an estimated 9,457 speakers, that gives them a population share of a little less than 0.15 percent.
With approximately 8,065 speakers in Tennessee, Korean is in seventh place on this list. It has a population share of about 0.13 percent.
Gujarati speakers make up around 0.12 percent of the population of Tennessee. In total, there are an estimated 7,631 speakers in the state.
Tagalog (including Filipino) comes in behind Gujarati, with a population share of a bit less than 0.12 percent. Overall, there are around 7,442 speakers in Tennessee.
10. Thai, Lao, and Other Tai-Kadai Languages
Rounding out the top ten with a population share of a little more than 0.11 percent are Thai, Lao, and other Tai-Kadai languages. In total, there are about 7,116 residents of Tennessee who speak these languages.
Are You Looking for a Top-Notch Interpreter or Translator?
While the vast majority of Tennessee residents speak English, a wide array of other languages is spoken in the state, too. Since that's the case, companies often need a reliable language services provider to ensure they can communicate effectively with the diverse population.
Acutrans offers industry-leading language services, covering over 200 languages. With our on-site, over-the-phone, or video remote interpretation programs, our team can address nearly any interpretation need. Additionally, specialty services for the legal and healthcare sectors are available, ensuring your interpreter has the necessary industry knowledge.
Certified document translations are also available through Acutrans, typically in 24 hours or less. Along with general translation, we have localization and post-machine translation programs. Additionally, Acutrans has specialty translators for select industries and fields, including legal, medical, and technical.
When you have a leading language services provider by your side, your organization gets top-tier results. If you could benefit from talented and skilled interpreters or translators, Acutrans is a fast, professional solution. Contact us for a free quote today.