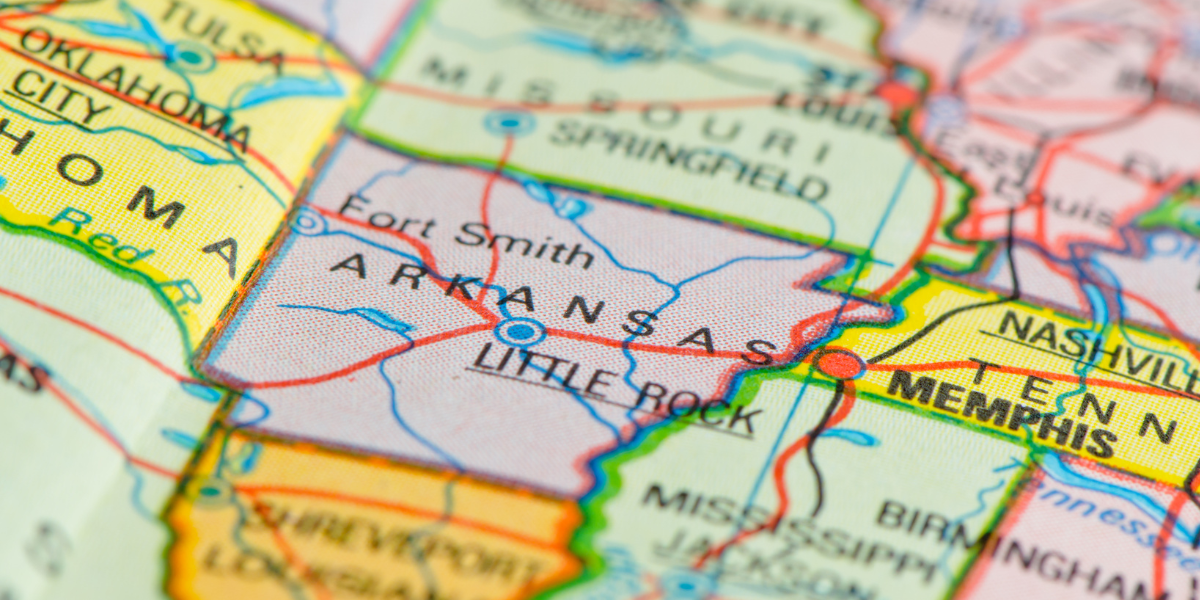 In Arkansas, English is the official language of the state. While English is spoken by most of the residents, that doesn't mean other languages aren't widely used. As is the case with most states, Arkansas is more diverse than some people may realize, and many people immigrate to the state today, bringing their cultures and languages with them.
Often, the languages present in a state are a reflection of an area's modern and historical immigration patterns. Here's a quick overview of the immigration history of Arkansas, as well as a look at the top ten languages of Arkansas (not including English).
Arkansas Immigration History
Before settlers began arriving, the region that became Arkansas was populated by indigenous people. Some estimates suggest that indigenous people were in the area beginning around 14,000 years ago. As explorers and settlers began arriving, Caddos, Osages, and Quapaws were the most common indigenous people, with the number of Cherokee increasing when the Trail of Tears brought them through the region.
Settlers primarily came from the East as part of westward expansion. Initially, migrants of Scottish, Irish, and English descent made up the build of the immigrants. People of African descent also came into the area, often arriving as slaves of the white settlers.
By the 21st century, approximately four-fifths of the population was of European descent, though the African American population was also substantial. In time, immigrants from other countries began arriving, too. The Hispanic population grew with surprising speed, particularly immigrants from Mexico. Asians also arrived in significant numbers, especially immigrants from China, India, the Philippines, and Vietnam.
Top 10 Languages of Arkansas (Other Than English)
The population of Arkansas is approximately 3.05 million residents. While most Arkansas residents speak English, 7.7 percent of residents (about 234,514 people) above the age of four don't speak English at home. Instead, another language is the primary one spoken in their households.
While speaking a language other than English at home doesn't mean a person doesn't also speak English, an estimated 3.29 percent of the population (around 100,202 residents) are considered to have limited English proficiency (LEP). As a result, they rely heavily on a non-English language to communicate.
Based on those figures, it shouldn't come as a shock that many languages are spoken by residents of Arkansas. Here's an overview of the top ten languages of Arkansas (other than English).
Spanish is the most common non-English spoken in Arkansas by a substantial margin. The estimated 153,426 Spanish speakers make up about 5.43 percent of the population.
2. Ilocano, Samoan, Hawaiian, or Other Austronesian Languages
Ilocano, Samoan, Hawaiian, and other Austronesian languages come in behind Spanish on the list of the top ten languages of Arkansas. Overall, approximately 7,792 Arkansas residents speak these languages, resulting in a population share of a little less than 0.28 percent.
In third place on the list of the top ten non-English languages spoken in Arkansas is Thai, Lao, and other Tai-Kadai languages. With about 5,072 speakers in the state, they make up 0.18 percent of the population.
With approximately 4,842 speakers, Vietnamese is the fourth most common non-English language in Arkansas. In total, they have a population share of just a little more than 0.17 percent.
Chinese (including Cantonese and Mandarin) is just barely behind Vietnamese on this list, with an estimated 4,822 speakers. That results in a population share of a bit more than 0.17 percent.
The sixth-place language on this list is German. The 3,924 German speakers make up nearly 0.14 percent of the population of Arkansas.
Following German on this list is Tagalog (including Filipino). There are approximately 3,194 Tagalog speakers in Arkansas, resulting in a population share of just a bit above 0.11 percent.
French (including Cajun) is in eighth place on this list. There are an estimated 3,194 speakers, causing them to make up about 0.11 percent of the population.
With about 2,862 speakers, Arabic sits in ninth place on this list. Overall, that works out to a population share close to 0.10 percent.
Rounding out the top ten languages of Arkansas (not including English) is Telugu. With around 2,122 speakers, they make up nearly 0.08 percent of the population.
Need to Communicate with a Diverse Population? Acutrans Can Help
Residents of Arkansas speak a wide variety of languages. As a result, having access to skilled interpreters and translators is often essential to ensure reliable communication with a diverse population. Acutrans is a leading language services provider that holds itself to the highest standards at all times to ensure accuracy for all your translations and interpretation needs.
The Acutrans team of professional interpreters covers more than 200 languages. We offer several programs, including video remote, over-the-phone, and on-site interpretation, to ensure accessibility. We also have specialty services for the legal and healthcare industries.
Acutrans also provides certified document translations in 24 hours or less. General translation, localization, and post-machine translation services are available. Additionally, there are specialized programs for specific sectors, including the technical, medical, and legal industries.
When you partner with a top-quality language services provider, you get undeniable results. If you need reliable, professional interpreters or translators, Acutrans is a leading solution. Contact us for a free quote today.