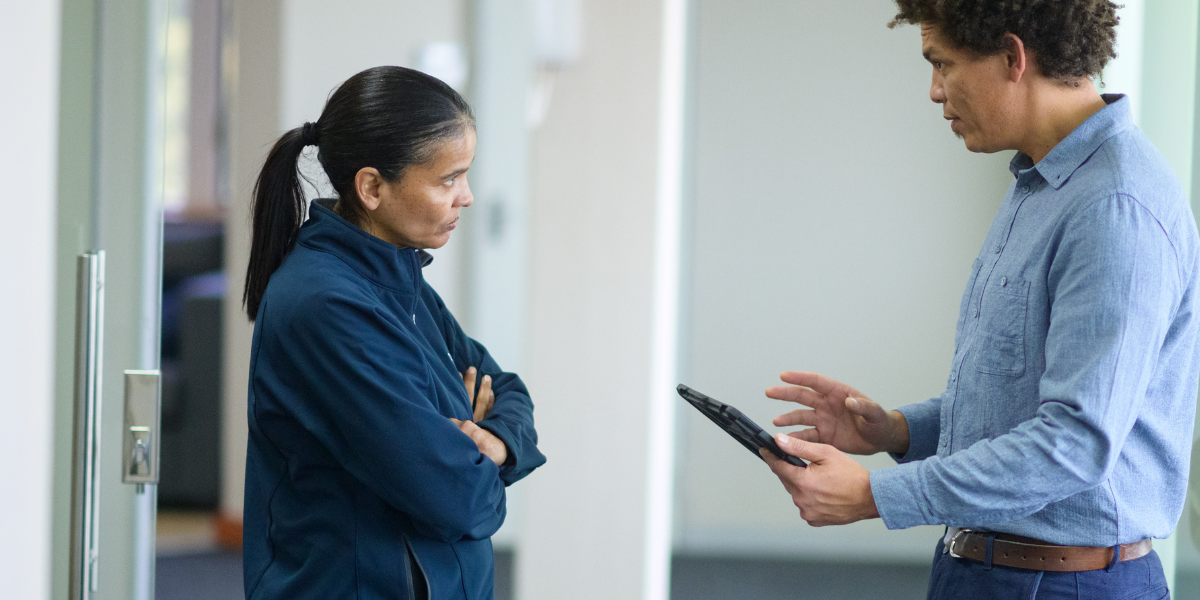 Effective communication is critical for ensuring high-quality patient care. While there are typically few challenges when both patient and provider speak the same language, language barriers dramatically alter the communication equation. Ultimately, on-site medical interpretation in healthcare can be a critical solution.
Here's a look at the importance of on-site interpreters in healthcare settings and why on-site language access in hospitals is so essential.
The Importance of On-Site Medical Interpretation in Healthcare Settings
Improved Patient Engagement
Providing high-quality healthcare experiences often requires a high degree of patient engagement. While the exact definition of patient engagement does vary, research shows that personalization and access are both driving factors.
On-site language services in healthcare allow medical services to be as accessible as possible. Additionally, with an interpreter available, the interaction often feels more personal and supportive. In turn, you're essentially enhancing patient care with on-site interpretation, making the process more accessible, meaningful, and effective.
Accounting for Body Language
Another of the key benefits of on-site medical translation is that the interpreter can account for the patient's and provider's body language during the conversation. In many cases, gestures or facial expressions can alter the meaning of a particular phrase, statement, or question. Without the visual cues that come with being in the same room, these subtle messages can end up lost, and that's not ideal.
When it comes to cultural sensitivity in on-site interpretation, the ability to witness body language can also play a role. Many cultures have unique gestures or expressions that indicate how a statement should be taken, and if they can't be viewed, the resulting interpretation may be less accurate. As a result, an on-site solution doesn't just eliminate language barriers in healthcare; it ensures that every level of communication – including non-verbal components – is properly accounted for during the discussion.
Enhanced Patient Safety
Improving patient safety with on-site interpreting is possible. As a minimum, it ensures that all information that's shared by any participating party is understood, eliminating language barriers or misunderstandings that could lead to issues.
Reducing medical errors with on-site interpreters largely occurs by making sure that information is conveyed correctly and in real time. Medical professionals don't have to operate on assumptions or with limited information. Instead, they can fully engage with the patient, ensuring they get all of the information they need to make wise treatment decisions.
No Technical Hurdles
In many cases, telephone-based or video interpretation are seen as options for effective communication in healthcare settings when language services are required. While they undeniably make language services more accessible, they do have the drawback of relying on technology.
Even in areas where phone and internet service are typically reliable, technical hurdles can negatively impact the experience. Subpar connections on the patient's or provider's end, a lack of familiarity with the underlying technology, or a sense of discomfort in communicating using those mechanisms can all hinder communication, diminishing the quality of patient care offered.
With on-site medical interpreting solutions, technology isn't part of the equation. As a result, there won't be any technical hurdles to disrupt the experience.
Providing Better Patient Care Through On-Site Interpretation
With on-site interpreters for patient communication, it's possible to provide better patient care even when language barriers exist. At Acutrans, our team members undergo robust on-site interpreter training and adopt on-site interpretation best practices, ensuring they're fully prepared to meet the needs of patients and providers.
The experienced Acutrans interpretation team covers over 200 languages, including through our industry-specific interpretation services for the healthcare sector. Along with on-site interpretation, we also have video remote and over-the-phone interpretation programs to meet a wider variety of needs. Additionally, if your healthcare organization needs access to high-quality translators, Acutrans provides certified document translations in 24 hours. Along with general transition, Acutrans has a translation program designed specifically for the medical industry, making it ideal for patient communications.
By partnering with a leading language services provider, you're ensuring that your healthcare facility can offer the best patient experience possible. If you're ready to experience the Acutrans difference, contact us for a free quote today.