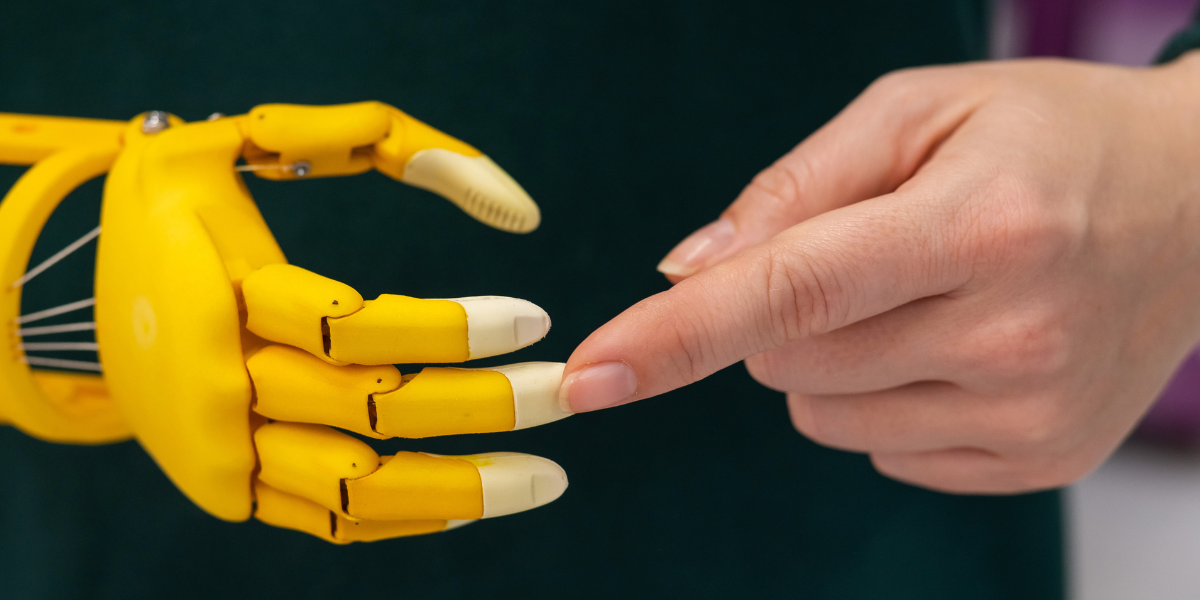 3D printing is revolutionizing patient care, allowing for the creation of patient-specific medical devices and rapid tooling. Through an additive manufacturing process like 3D printing, raw materials are functionally converted into complex 3D objects, often in far less time and with much less waste than other manufacturing methods.
However, the primary benefit of 3D printing medical devices is that each object can be built using a customized model. As a result, it's possible to make medical devices that are designed explicitly for a single patient, ensuring a near-perfect fit.
The use of 3D printers in the healthcare industry is expanding, and the strategy is currently the basis for a wide array of patient-specific medical devices, though it also has other uses. Here's a look at just some of the patient-specific medical devices and rapid tooling that 3D printing technology is used to create.
3D Printed Patient-Specific Medical Devices and Rapid Tooling
Prosthetics
In the United States, more than 2 million people live with a limb loss. Often, prosthetics are a viable way to help a person with a limb loss reclaim their independence. However, traditional manufacturing strategies for prosthetics were cumbersome and time-consuming and didn't always lead to the ideal result. Fortunately, 3D printing is changing the landscape.
With 3D-printed prosthetics, achieving a precise, custom fit is possible. Plus, the process is far faster than the traditional alternatives, and the end result is physically lighter and stronger, adding durability while increasing comfort. 3D-printed prosthetics are also less expensive, making them more accessible to lower-income individuals and more affordable for manufacturers.
Using 3D printing also creates opportunities to design more complex prosthetics. In turn, additional articulation or functionality is increasingly possible, allowing prosthetics to work more like a limb.
Hearing Aids
Before 3D printing, creating custom hearing aids was an arduous process and led to a significant amount of waste. With 3D printing, it's possible to develop customized hearing aids with surprising speed, all while providing a better overall fit for patients. Since a perfect fit improves the quality of audio and comfort, using 3D printing technology leads to improved results. Plus, it can reduce the cost to patients, making a high-quality hearing aid more accessible to individuals with less income.
Orthopedic Implants
Orthopedic implants typically support or replace joints and bones, both of which are surprisingly complex and vary greatly from patient to patient. With 3D printing, it's possible to create personalized orthopedic implants. Along with ensuring the proper shape, 3D printing creates space for additional complexity.
Plus, 3D printing can work with a variety of materials. As a result, healthcare providers can select the optimal one based on a patient's needs and other factors, like flexibility or durability. Ultimately, this enhances the odds of long-term success, all while improving functionality and patient comfort.
Anatomical Visualizations
While the applications for patient-specific medical devices are undeniably significant, 3D printing can also allow healthcare providers to create models of patient organs and other structures. Additionally, it can replicate the appearance of anomalies like defects or tumors. As a result, physicians can 3D print anatomical visualizations, allowing them to use the models for surgical planning. The approach makes developing an appropriate strategy for addressing a concern simpler, as healthcare providers can view and manipulate the model to see areas that may otherwise be obscured through other visualization approaches. In turn, this can lead to improved surgical results.
The Future of 3D Printing in Healthcare
While the advances above are momentous, they only scratch the surface of what may ultimately be possible. Studies are exploring the potential of bioprinting, a 3D printing technique that uses living cells gathered from patients to create tissues and organs. With bioprinting, there isn't just customization. Since the raw materials originate from the patient themselves, the chance of rejection is significantly reduced. Additionally, the technique could help overcome donor organ shortages, allowing more patients to get critical care even if donor numbers remain stagnant or decline.
While bioprinting is likely the most substantial leap forward, other advancements in patient-specific medical devices also continue. Any device that was previously wasn't customized could become a viable target. Plus, 3D printing technology could allow healthcare facilities to create other tools or equipment they may need while caring for a patient, eliminating issues related to low supplies, unique sizing, or supply chain struggles. In the end, 3D printing has a significant amount of potential in healthcare, and advances in the space continue to revolutionize the industry.
Improving the Patient (and Provider) Experience Through Language Services
3D printing is revolutionizing the healthcare space, dramatically improving the patient and provider experience. However, sound communication is also a crucial part of the equation. By partnering with a top-quality language services provider, healthcare providers can support better communication, leading to better experiences and outcomes.
If you need reliable translators, Acutrans can provide accurate certified document translations in 24 hours and has a program designed explicitly for the medical sector. Additionally, the Acutrans team offers over-the-phone, video remote, and on-site interpretation services, covering more than 200 languages, including through an industry-specific interpretation program for the healthcare sector. Contact us for a free quote today.